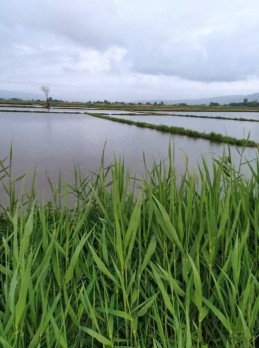 The sowing campaign this spring will be realized 10 (ten) days earlier than usual, which is an excellent prerequisite for successful vegetation and earlier harvest in the autumn. The efficiency in sowing was due to the timely preparations and the optimal amounts of water that are distributed to the water users.

Approximately 10 (ten) days earlier than last year, the sowing of rice in the production region planned on 4,200 hectares will be fully realized.

The fast and efficient sowing was enabled by the qualitative irrigation from the Bregalnica Hydro-system and the timely preparation of the trenches, furrows, the detailed and the main canal network, which enabled the distribution of water to all water users.

The remaining 10 (ten) percent of unsown areas are in the areas of the villages of Spancevo and Sokolarci, which are traditionally sown among the last.

From the Kalimanci dam, holding over 110 million cubic meters of water, 9м³ per second of water has been released, an amount that satisfies the needs for irrigation in this period of the season. The use of the flowing waters from the rivers this springtime was at maximum, making significant savings of the water from the Kalimanci dam.
Agricultural experts assess the sowing as very efficient and of high quality, due to the favourable weather conditions, which enable successful germination and vegetation of the rice crop. This means that at the end of May and the beginning of June, the phase of protection of the crops from weeds will start, which is very important for obtaining bigger and better production.